Rob Rubba
Executive Chef, Hazel
Hazel, which opened in June 2016, is Rob Rubba's first solo act. The chef, who entered the culinary world by accident while trying to pay for an art studio in Philadelphia, has bounced around America working for some of the biggest names in the business.
His first job was in the pastry department at Connecticut's Mohegan Sun casino, under the watchful eye of his uncle who was executive chef. There, Rubba's claim to fame was making Dan Ackroyd's 50th birthday cake, complete with a white chocolate cone head. Soon after, he switched to savory, dropped out of art school, enrolled in culinary school, and launched his whirlwind, Michelin star-studded career.
He first worked at Todd English's restaurant in the Connecticut casino, but quickly decided if he was going to pursue his dreams, he needed to head to New York City. He landed a job at Gordon Ramsay's restaurant in the London Hotel, which was awarded two Michelin stars almost immediately. He proceeded to work his way up in some of the best kitchens around the country, including Guy Savoy in Las Vegas,  L20 in Chicago and George Perrier's Le Bec-Fin in Philadelphia.
Rubba and his wife originally moved to D.C. to work for Frederik De Pue at Azur, which turned out to have a quick curtain call. He met Michael Babin, the President of Neighborhood Restaurant Group, soon thereafter, and immediately knew he found a home with the company. Rubba ran Tallula in Arlington, while fleshing out the concept for Hazel, his 38-seat dining room that serves as an ode to his experimentation with international cuisines. Since its opening, Hazel has received 2 1/2 star reviews from both The Washington Post and Washingtonian, and has received accolades from Food & Wine, Travel & Leisure, Zagat, Washington City Paper and Eater.
Hazel made it to the Bib Gourmand list by Michelin Guide.
https://guide.michelin.com/us/washington-dc/dining-out/behind-the-bib-hazel-in-washington-d-c/news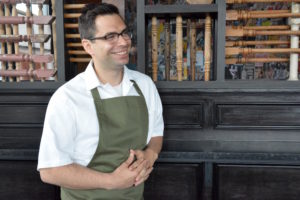 HAZEL Fact Sheet
Opening Date: June 27, 2016
Executive Chef: Rob Rubba, formerly at Tallula and Azur here in Washington, has spent time working from coast to coast in kitchens like Le Bec Fin and L20, and for famed chefs such as Guy Savoy, Charlie Trotter, Georges Perrier and Gordon Ramsay.
Neighborhood: Hazel is located in the Atlantic Plumbing building in D.C.'s burgeoning Shaw neighborhood
Address: 808 V Street NW, Washington, DC 20001
Restaurant: 38-seat dining room, a 16-seat bar and a 38-seat year-round patio
Menu: Rubba's menu combines flavors from around the world using traditional and contemporary techniques to create dishes that are distinctive and satisfying. A menu of shared plates–the way Rubba prefers to dine himself—makes up the majority of the menu, with dishes such as Grandma's Zucchini Bread with Foie Gras mousse and Gnocchi Bokki with pork-kimchi ragu, and smoked pecorino.
Tasting menu: Rubba offers two "Lazy Susan" dinners as a tasting menu alternative. Presented on the handmade wooden pieces, the dinners are convivial and served family-style. The "Ducked Up!" Lazy Susan is inspired by Peking Style Duck
Dessert program: Executive Pastry Chef Naomi Gallego's dessert menu includes White Chocolate Crémeux with peanut fudge, crispy rice and matcha crumble and specials like the Hong Kong Bubble Waffle, Spice Roasted Pineapple and Coconut, served alongside Capital Teas and Vigilante Coffee.
Beer program: Hazel's wine and beer programs complement the bold, global flavors of Rubba's menu. Engert's beer list features 25 by the glass, including 12 beers on draft, and 75 by the bottle and echoes the global influence of Rubba's menu, with selections sourced from the local, domestic and international scenes. The list also showcases a rotating, in-depth array of offerings from up-and-coming craft brewers located near and far
Wine program: Hazel's wine list includes 20 wines by the glass and 60 bottles focusing on under appreciated regions and under-the-radar grapes that are indigenous to them. Featuring finds from Republic of Georgia to Austria, Serbia to South Africa, and many points in between, the wines feature a high intensity in ripe fruit, acidity, and earthiness to pair specifically with Rob's menu.
Cocktail program:  The list is divided into "Delicate" and "Complex" offerings, with delicate cocktails featuring  vermouth and wine-based spirits for aperitif-style cocktails, and complex selections offering more savory, with herbal, botanical, and spice forward elements.
Design: Catherine Hailey Design is responsible for the new urban style design of Hazel. The space's natural light and airy, tropical patio is paired with an interior that features dark wood, cool tiles and vibrant pops of color. A layered pop culture collage by Creative Director Kris Mullins serves as a statement piece in the dining room and artist Rick Singleton has is responsible for the eclectic custom lighting pieces with floral themes.
Hours: Hazel's dining room accepts seatings from 5:30 PM to 10 PM Sunday through Thursday and from 5:30 PM to 10:30 PM Friday and Saturday. The bar is open from 5 PM to midnight daily. Reservations can be made by calling (202) 847-4980 or visiting www.hazelrestaurant.com.
Social media: @hazelrestaurant on Facebook, Twitter and Instagram